"But if you would grant my wish, I want you to use it to finish building that house"
The Cliff House
is a dream house for
River Wyles
because its location is near a
lighthouse
so she could see the lighthouse and visit it whenever she wants.
Main Story
Edit
Before River was ill, Johnny promises River to build this house in order to make River's dream come true to having a house near the lighthouse.
After the lighthouse closed, River's desire of having this house is increased. But because of River's illness, Johnny becomes confused and have to choose whether finishing the house or pay the treatment for River illness.
Finally Johnny did finish the house with all money he had. Not long after that, Johnny became too ill and the event of the game started.
Locations
Edit
There are 3 different locations in this area.
1st Floor
Edit
This place where Tommy and Sarah plays For River early in the game using Johnny's piano. This area consists of 5 different rooms, in the center of the house is the main room or living room, in the southeast area is the kitchen, in the southwest area is the study room and in the west area is the bathroom. There are 2 stairs in the central room lead to 2nd floor and basement.
2nd Floor
Edit
Early in the game, this place is where Johnny were treated for his illness. This area consists of 4 different rooms, in the northeast area is some kind of hallway to the bedroom, in the center area is the main bedroom, in the southeast area is a room full of paintings by Johnny describing his life, and in the southern area is a bathroom.
Basement
Edit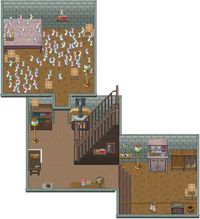 This area is where Dr. Rosalene or Dr. Watts get to see the funny room where so many paper rabbits cluttered in floor with so many different colors. There is also a platypus doll in a desk.

The basement consists of 2 different rooms, the funny room and main basement.
The locked chest in basement is non functional and cannot be opened in-game.